Subject
Hanwha Ocean cuts steel for BW LNG's next LNG carrier newbuild
Reg. date
2023-11-13
Views
79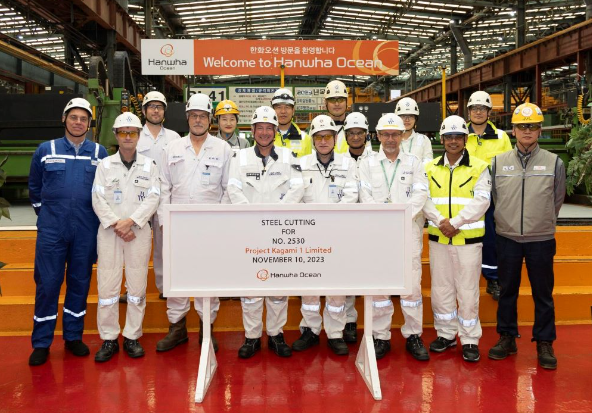 [Offshore Energy/November 10, 2023] South Korean Hanwha Ocean has held a steel-cutting ceremony for a new LNG carrier to be built for Norway-based gas shipping company BW LNG.
The shipping company shared the update on its social media channels on November 10, 2023, revealing the commencement of the newbuild construction.
The ship (H2530) is a 174,000 cubic meter MEGI-propelled LNG carrier that is slated for delivery in 2025.
It is one of the four LNG carriers that Hanwha Ocean is building for the Norwegian shipowner. In addition to MEGI propulsion, the vessels will feature a full re-liquefaction system, air lubrication system, and shaft generators for superior fuel consumption and lower emissions.
Marine compressed air systems will be provided by TMC Compressors.
Last year, BW LNG welcomed and named two LNG carriers, BW ENN Snow Lotus and BW Cassia, in South Korea. Built by Hanwha Ocean, the vessels were to begin their time charter contracts with ENN and BP.