Subject
Hanwha Ocean secures order for world's largest ammonia carrier
Reg. date
2023-11-15
Views
72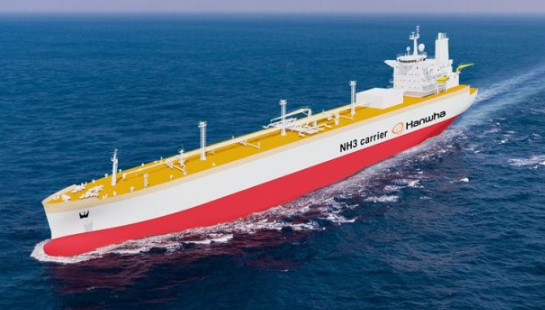 [Safety4sea/ November 14, 2023] Hanwha Ocean announced that it is opening the era of carbon free ships by winning an order for an ammonia carrier that can use ammonia as fuel.
Hanwha Ocean has secured an order worth KRW 656.2 billion (around $498 million) to construct four very large ammonia carriers (VLACs) for Greek shipowner Naftomar Shipping and Trading.
In particular, the company received an order worth KRW 656.2 billion for four Very Large Ammonia Carriers (VLAC) from Greece's Naftomar Shipping and Trading Co Ltd. This ship will be built at the Geoje shipyard and will be delivered to the shipowner by 2027.
This ship can transport 93,000㎥ and it is the world's largest ammonia carrier ordered so far.
Additionally, this ship will be equipped with eco-friendly technologies that Hanwha Ocean is proud of. The shaft generator motor system (SGM), which can generate fuel by connecting a motor to the propulsion shaft, and HS4 (Hanwha SmartShip Solution & Service), a smartship platform developed in-house by Hanwha Ocean, will be installed.